SALOME, SALOME, DANCE FOR ME!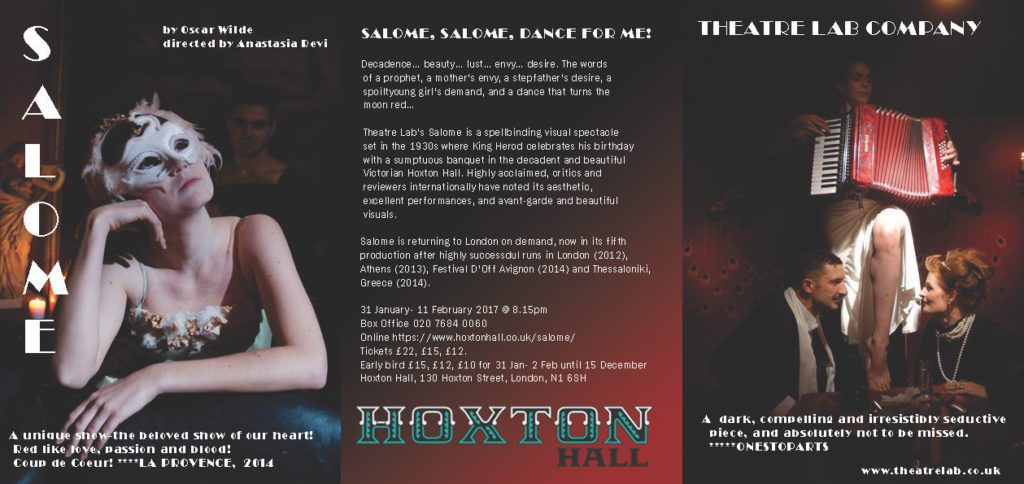 Decadence… beauty… lust… envy… desire. The words of a prophet, a mother's envy, a spoilt young girl's demand, a stepfather's desire, and a dance that turns the moon red…
Theatre Lab's Salome, directed by Anastasia Revi, is a spellbinding visual spectacle that evokes the soul of the writer, Oscar Wilde. The show has been praised for its eccentric and decadent portrayal of what was at one time a forbidden play. Anastasia Revi's unique approach takes Salome to the 1930s where King Herod is celebrating his birthday in style with a sumptuous banquet. The production has been highly acclaimed by reviewers internationally who have noted its aesthetic, excellent performances, and avant-garde and beautiful visuals.
Salome is now in its fifth production following four highly successful openings to date. It premiered with an enormously successful opening in December 2012 at the Old Cholmeley Boys' Club, a decadent underground Victorian building in London, as a site-specific performance. Since then it toured to Cabaret Voltaire, Athens in 2013, Festival D'Avignon in July 2014 and Thessaloniki in October 2014.
Running Time: 70 minutes, no interval
Salome is suitable for a general audience, anyone over 16. It contains reference to sexual content in some scenes, but no nudity.
31 January -11 February, 2017 @ 8.15pm
Hoxton Hall, 130 Hoxton Street, London, N1 6SH
Box Office 020 7684 0060
Online https://www.hoxtonhall.co.uk/salome/
Tickets £22 (Guests at King Herod's Party), £15 (Balcony), £12 (Upper Balcony)
Early bird until 15 December £15(Guests at King Herod's Party, £12 (Balcony), £10 (Upper Balcony)