Molière's DON JUAN at Hoxton Hall
Theatre Lab Company return with Molière's DON JUAN following their acclaimed SALOME, also at Hoxton Hall, and recent applauded production of Daphne du Maurier's JAMAICA INN at Tabard Theatre.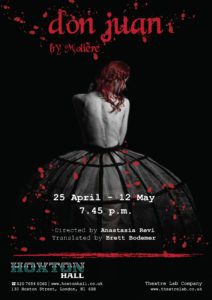 DATE: 25 April -12 May @ 7.45pm
VENUE: Hoxton Hall, 130 Hoxton Street, London, N1 6SH
BOOKING: Box Office 020 7684 0060 or online at https://www.hoxtonhall.co.uk/don-juan/
TICKETS: £20 (£16 Concession), Groups of 10+: £15 each and 1 free ticket per booking of 10 tickets
AGE SUITABILITY: 12+/PG
RUNNING TIME: 90 minutes, no interval
Charming… egocentric… atheist… philanderer… recently wed, Don Juan is about to commit adultery against his new wife. Accompanied by his servant, Sganarelle, he sets out in pursuit of his next amorous conquest. Sganarelle challenges his master's libertine views as the pair engages in a hilarious philosophical debate to defend their equally self-serving moralities. Don Juan… remorseless, unrepentant… has a voracious libido. Sganarelle… clever, pious but ambitious. Set against the backdrop of the Venice Carnival, DON JUAN is a black comedy that follows the last day of the legendary playboy's life.
The legendary playboy's notorious exploits have captured the imaginations of playwrights, poets and composers for stage, opera and screen. Lord Byron, Mozart (Don Giovanni), Patrick Marber (Don Juan in Soho) and Johnny Depp (Don Juan de Marcos) amongst others have been inspired by the tale.
Cast
Peter Rae   (Don Juan), David Furlong (Sgannarelle), Emmanuela Lia (Elvira), Benoît Gouttenoire (Gusman/Charlotte/The Beggar/Don Alonse, Samuel Lawrence (Pierrot/Mathurine /Don Carlos / Don Luis), Signe Preston (Illusion of Love)
Team
Anastasia Revi (Director), Brett Boedemer (Translator), Valentina Sanna (Designer), Umberto Fiorilla (Wigs and Hair), Chuma Emembolu (Lighting Designer), Martina Reynolds (Producer),  Fetin Sardaneh (Stage Manager), Marina Konta (Assistant Lighting Designer & Stage Manager)
Hoxton Hall is a former Victorian Music Hall restored to its past glory in 2015. Now a stunning theatre with all of its original vintage charm, it is a short distance from the City of London. For access information:  https://www.hoxtonhall.co.uk/find-us/