Emmeline
We will be in contact with updates and further information about the forthcoming production of Emmeline as soon as we have further information.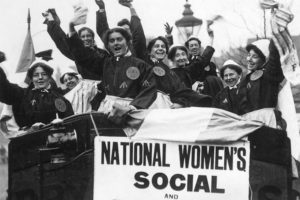 By Beatrice Hyde
Directed by Anastasia Revi
Dates:15 -24 July 2020 @ 7.30pm, matinees on 16th, 18th and 23rd July, no performance on 20th July.
Venue: The Cockpit, Gateforth Street, London NW8 8EH.
Box Office: 0207 258 2925, reception@thecockpit.org.uk.
Online: https://www.thecockpit.org.uk/show/emmeline
Tickets: Full price: £20, Concessions: £15
Emmeline follows the journey of the inspirational leader of the Suffrage movement on her life's mission to achieve the vote for women. Delving into the dynamics of the Pankhurst family, Emmeline explores the tensions that arose between her and her daughter Sylvia on militant tactics and social values, emblematic of the conflicts that divided the movement. Does the end justify the means? Should the cause come first, no matter the personal cost?
A story of the courage and sacrifice of the Suffragettes, their struggle and exaltation, their undying determination that made history. A story to inspire the country to continue the fight for human emancipation.
March on, March on, Face to the Dawn, the Dawn of Liberty!
Theatre Lab Company, the creators of the recent Off Westend award nominated production of Great Expectations at the Playground Theatre are returning to The Cockpit with their new production, Emmeline, based on the life of Emmeline Pankhurst. The Company are known for dynamic, daring and visually stunning work, and at the same time, creating accessible and engaging theatre for a wide audience. Their profile includes classics, devised and musical productions as well as classical and contemporary Greek theatre. Other recent London performances include Lucrezia the Sinner, Lucrezia the Saint which premiered at the Oxford Playhouse BT Studio, followed by performances at the Cockpit Theatre and a tour of Greece,  Molière's Don Juan at Hoxton Hall and Daphne du Maurier's Jamaica Inn at Tabard Theatre.