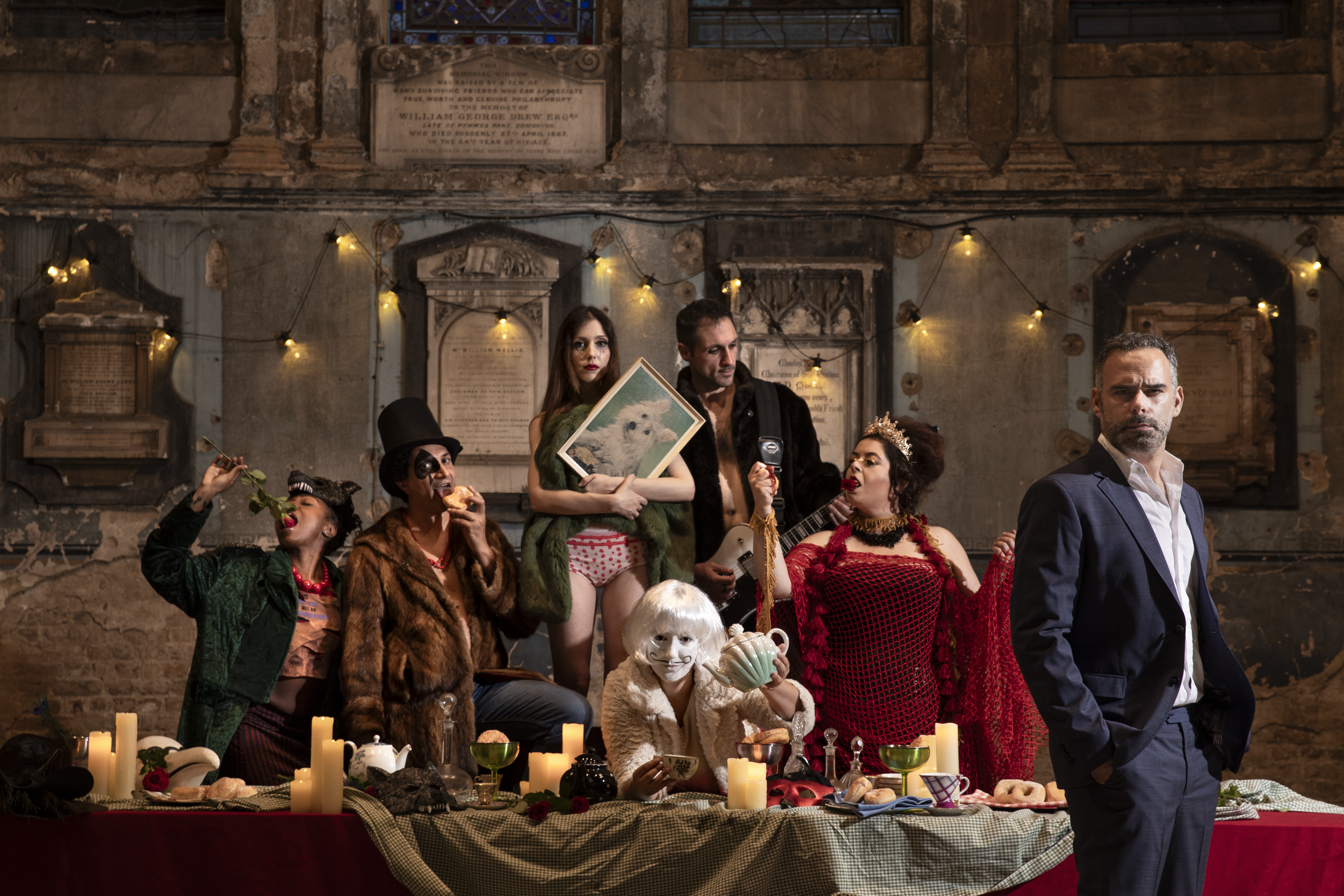 Written by Lydia Vie
Directed by Anastasia Revi
Photo credit Yiannis Katsaris
Theatre Lab Company's innovative re-telling of Lewis Carroll's timeless story brings wonderland extravagance to the Asylum Chapel
Theatre Lab Company's new production is an innovative re-telling of the beloved classic story,
Lewis Carroll's Alice in Wonderland, accompanied by an original live musical score.
A story blending the old and the new, classic and contemporary, reality and imagination, all coming together in the quest to understand our identity. Set in contemporary London, Mr. Rose, a property investor, believes he has struck gold when he buys a new building, the Asylum, a former Victorian asylum. As he prepares to demolish the building, he decides to pay a visit to the site, only to find that it is not empty as expected. Here, he meets Alice, the last patient of the Asylum before it was forced to shut down in 1873. Curious and impatient, Mr. Rose does all he can to get Alice out of the Asylum and proceed with his dream of gentrification. Alice, however, has other ideas. It's time for tea, you see.
The production promises to be a unique experience staged at the enchanting Victorian Asylum Chapel in South London that was once a place of sanctuary for those in need. The social function of this haunting space echoes the message of this play as an unsuspecting Mr Rose encounters Alice and some of her demons.
Tickets price : £35, concessions £15 for students and unemployed
This is an exclusive production with just two performances on 3 December at 2pm and 6pm at the Asylum Chapel, Caroline Gardens, Asylum Road, London, SE15 2SQ.
Tickets and Information: https://www.eventbrite.co.uk/e/alice-at-the-asylum-tickets-726713970047
The performannce runs for 70 minutes.
Suitable for 12+/Parental Guidance.
Creative Team
Written by Lydia Vie
Directed by Anastasia Revi
Music by Hades
Costumes by Lisa Lach-Nielsen
Lights and photography by Yiannis Katsaris
Production by Martina Reynolds
Cast
Manolis Emmanouel
Lydia Vie
David Furlong
Sevi Filippidou
Hades
Christiana Maycea
Rujenne Green