Directed by Anastasia Revi
The legendary Dom Juan is back to celebrate Molière's 400th anniversary, so join us along with our  partner, Exchange Theatre (https://www.exchangetheatre.com/moliere-400th/) for our new production at The Vaults Theatre, London, from 11-29 May 2022, alternately in English and French.
For further information and tickets:
https://www.thevaults.london/dom-juan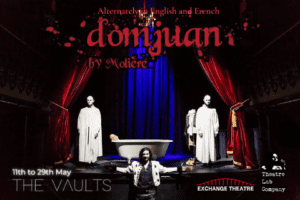 Charming… egocentric… philanderer… recently wed, Dom Juan is about to commit another adultery against his new wife and sets out in pursuit of his next amorous conquest accompanied by his servant, Sganarelle.
Don Juan is remorseless, unrepentant and has a voracious libido. Sganarelle is clever, pious but ambitious and challenges his master's libertine views as the pair engage in a deep and yet hilarious philosophical debate.
Anastasia Revi's direction is a feast for the senses where theatre, comedy, lust, music, luxury, masks and the labyrinth of dreams and desires all mingle and mix deliciously.
DOM JUAN is a light, dangerous, charming and addictive comedy that follows the last day of the legendary playboy's life cocktail, against a backdrop of a decaying Venice Carnival.
The production is also mixing genders demonstrating that neither amorality or righteousness are gendered and follows the end of a male-gazing patriarchy…
The legendary playboy's notorious exploits have captured the imaginations of playwrights, poets and composers for stage, opera and screen. Lord Byron, Mozart (Don Giovanni), Patrick Marber (Don Juan in Soho) and Johnny Depp (Don Juan de Marcos) amongst others have been inspired by the tale.
"A vigorous and vibrant production." LONDON THEATRE 1  ★★★★
􏰀"Bold, brilliantly clever, Anastasia Revi's inspired direction transforms the cliché of seductiveness into an almost endearing cynicism, a weakness of indulgence rather than the acme of male prowess, and in doing so, the female element becomes more dominant and the passages of philosophising make more sense. With an excellent cast and lively staging this is somehow both rollicking entertainment, and food for thought." THE SPY IN THE STALLS ★★★★
"High energy, fast paced production. A thoroughly entertaining evening." REMOTEGOAT ★★★★