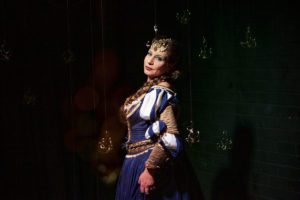 by Penny Fylaktaki
directed and performed by Anastasia Revi
designed by Valentina Sanna
13 & 14 October 2019 @ 7.30pm
The Cockpit, Gateforth Street, London NW8 8EH.
Box Office: 0207 258 2925, reception@thecockpit.org.uk,Online Booking
Tickets: Full price: £16 Concessions: £12
Lucrezia Borgia, alternatively ruthless political schemer and victim of historical circumstance, awaits entry to the kingdom of heaven following her demise. Her 'apologia' presents juxtaposing accounts of her earthly existence: innocent victim of corruption, exploited to serve political interests, to willing accomplice with rumours of indulgence, incest, orgies and murder. But is there more to tell? Lucrezia has the opportunity to explain, but can she convince God? Is she a saint or a sinner?
London's Theatre Lab Company are known for being dynamic, daring and visually stunning. Following its sellout premiere at The Oxford Playhouse – BT Studio in March 2019, this humorous and eloquent monologue based on the life of Lucrezia Borgia will play in London for two performances only.
Please note, this play will be performed in Greek with English surtitles. ​