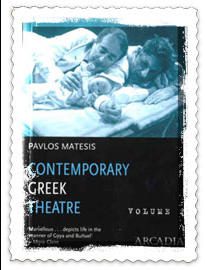 This is the first ever publication of contemporary Greek plays translated into English. The aim is to make contemporary Greek theatre accessible to international artists and audience.The four most recent plays by Pavlos Matesis (the 2000 award of the Greek Drama Critics):
Nurseryman 1989, translated by Athan H. Agnew, "Karolos Koun" Award, Municipality of Athens
Towards Eleusis 1995, translated by Fred A. Reed
Roar 1996, translated by David Connolly
Guardian Angel for Hire 1999, translated by Athan H. Agnew
Pavlos Matesis enjoys an international reputation as a playwright, novelist and translator. His novels have been translated into more than ten languages and have been loved by readers from around the world. This volume though is his first presence in the English language and the first presentation of his theatre plays outside Greece. Arcadia Books will publish very soon his internationally best selling novel "The Daughter".
The first ever series of publications of Greek contemporary plays translated into English
Published by ARCADIA BOOKS © 2002, ISBN: 1-900850-53-2
Available from all leading bookstores, price £9.99 ($13.99)
Sponsored by: Ministry of Culture of Greece, The Hellenic Foundation, London